Antonio Brown Brings Bad Press to Pats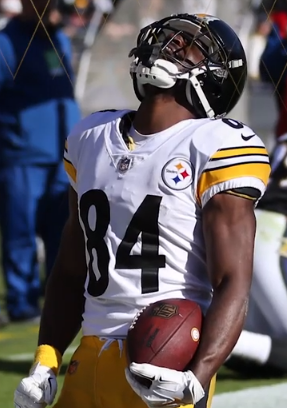 A lot of tension has been arising within the football community about the trade and sexual assault case concerning Antonio Brown.
On September 7, Antonio Brown switched from the Oakland Raiders to the New England Patriots before playing any games for Oakland. He was released from the Raiders that day because he was said to have caused a number of issues for the team, including a dispute about his helmet, claiming he had trouble seeing out of it, according to Sporting News.
Other outlandish behavior of Antonio's drew national attention.
According to an Aug. 8 article in The Ringer, in the beginning of August, Antonio went to France to get a cryotherapy procedure done for his feet. Brown didn't take the proper precautions, and as a result was left with severe frostbite on both feet, according to the article and the accompanying photos.
Antonio is arguably the best wide receiver in the NFL. Throughout his time he has only played for one team, though he has been on three. He started out on the Pittsburgh Steelers from 2010- 2019, then recently moved to the Raiders.
Before he got a chance to play however, he was released from the Raiders and within hours the New England Patriots signed him.
The signing of Brown to the Patriots made many fans excited, but now these same fans are skeptical because of the continued negative press he is bringing to the team.
On September 10, a lawsuit was filed accusing Brown of three different incidents of sexual assault from 2017-2018. Although he denies every accusation, many don't believe him.
PG Varsity Football player Chris Najarian looks up too many NFL players, but not Brown. "Brown is a good player, however, he was not a good teammate to others," Chris, from Needham, Mass., said.
Matt Porter is the Offensive Line coach for the Wildcats. He says NFL players, and all athletes, have a responsibility to be role models off the field as well because of their impact on Americans.
"The Patriots have a past of getting players who are seen as disruptions and getting them to come and buy into a certain set of values," said Porter. "Sports have the ability to influence so many people … Athletes definitely have a responsibility to make sure they're good role models and use their platform to do positive things for everybody in society."
UPDATE: On Sept. 20, according to NBC Sports, Brown was cut from the Patriots.