Alumni View of College Athletics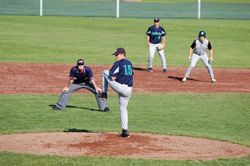 By Matt Lafrennie '09, Sophomore Pitcher for McDaniel College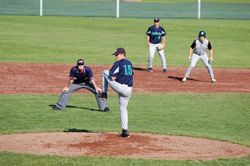 Every athlete dreams, some just work harder to attain their dreams. The opportunity to play college athletics is rare; it doesn't happen for everyone. Many young children dream about playing for college or professional teams as they play catch with their mothers or fathers in their backyards. The chance to someday put on that uniform with the NCAA emblem occupies a young athlete's mind. The opportunity is out there for anyone with enough determination. If you are like me, and the coaches told you that you weren't good enough to play in college, then your struggle against adversity may drive you to succeed. Not a day will go by that you won't remember what your coaches told you. Use that as motivation to make yourself better, to mentally prepare yourself for that next rep, or to run that extra sprint.
I recently spoke to two of my closest friends who graduated from Williston with me in 2009. Chris Dorman is a sophomore fullback on the football team at Robert Morris University. Chris told me that, "time and commitment, above all else, are the biggest factors that go into playing college athletics." He said, "college athletics is a job, you go to school, you do your class work, and you go to your job." Chris is going into his first competitive year with the Robert Morris football team, and he hopes to be in the rotation for starting fullback. However, if you do your job with devotion and commitment, your team becomes a family to you and the brotherhood can pull you through any hardship. One of the most difficult parts of participating in college sports programs is the act of balancing academic and athletic commitments. Classes may end minutes before I am expected at the field. Practice might not end until the night has begun. Generally, I have time to finish my work, and sometimes even get ahead if I work hard enough.
Kate Kellar '09 is a sophomore winger for the New England College women's ice hockey team, the Pilgrims. I recently spoke to Kate regarding her perspective on college athletics. "In order to be a college athlete, it takes a lot of dedication. One must truly love the game and work hard to get where they want to be," she said. Kate is going into her third season with the Pilgrims this upcoming winter, and hopes to earn a spot on the starting line.
Balancing athletics with academics varies by day whether I have practice right after class or some time to do a little work. Even if I have practice, I have enough time after to get all of my work done for the next day and even get ahead sometimes. I would say that the reward of college sports is in knowing the fact that there are only a select number of kids in the country that have the opportunity. Also, being able to be a part of a college sports team is like being part of another family. The college athlete becomes so close with his or her teammates over the four years that the team becomes another support group for the athlete. First and foremost I work for my team. Doing my "job" as a college athlete basically means doing whatever it takes in order to succeed. I do that extra sprint, put up that last weight, do the extra rep, anything I can do to better myself and my team, that is the college athlete doing his or her "job".
After talking to two athletes who graduated from Williston, all of our answers are roughly the same. In order to become a college athlete, it takes pride, confidence, dedication, time, and most of all, the commitment to make yourself the best you can possibly be at your sport. Most importantly, when you are a college athlete, you are also a college student. You cannot have one without the other.