Williston Activities Committee Cooks Up Eggcellent Surprise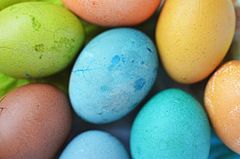 Hang on for a minute...we're trying to find some more stories you might like.
Golden eggs are scrambled around campus, but by no means are these ones over-easy to find.
With high stake rewards, many students are spending their Saturday nights tracking down the eggs. These eggs are planted in the general time and space of the main weekend activity to draw a crowd and bring the school together for a competitive egg hunt.
Why would someone want this egg? The prizes are second to none. With golf cart rides to classes for a day with donuts and music, everyone wants a taste. The latest prize involves an edible arrangement and a $10 gift card to Tandem, a hot spot on campus.
The reason for the golden egg is to kick off spirit for our Willy Gras theme this year, Willy Wonka. As in Willy Wonka, the golden tickets are the craze around the town. Golden eggs are also laid by Golden Geese in the film. The golden eggs have everyone in a competitive spirit here at Williston as well.
As of right now, there have been three winners: Kassandra Orcutt '19, Vince Wang '20, and Rob Champigny '18.
Senior Rob Champigny is the latest winner of the golden egg hunt, after ordering a "Snickerdoodle Bagel" from Tandem Bagel Company and finding the golden egg in his takeout bag.
"I almost thought they were messing with me." Rob said. "After finding a fake one in the Library the other day, I wasn't going to get too excited before I knew it was real. When I read the note on the inside, that's when my bragging rights began."
The fake eggs have become a false alarm around campus, as a handful of students have found golden eggs that have nothing to do with Ms. Davey's Egg hunt. The link on the inside of the eggs brings you to an Adobe Spark webpage, where there are instructions for a completely different prize.
Senior Bryan Soder found one of the fake eggs in the library.
"My buddy got so excited and then we realized that it was exactly what we heard about in the chapel at assembly," Soder added. "It hasn't distracted me even a little though. I still want a real one more than anything."
This event will keep up for the next couple of months, and I'm sure the students and faculty are excited to keep this exciting time rolling.
That's all yolks!

Jake Durocher '18, Staff Writer/Editor
Jake Durocher, is a repeat Senior from Rochester, MA. He is known around campus for his strikingly handsome features and lavish sense of style. In his...