Smallest Class on Campus is Also the Loudest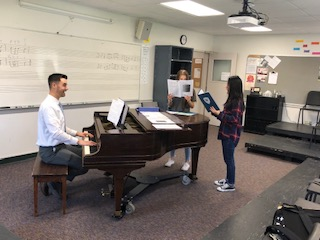 The smallest class on campus may very well be the loudest, too.
Treble Concert Choir class currently has only two singers. The class had seven students first semester and eight students second semester, but there are only two students right now, Megan Ward '21, and Kana Kitano '22.
Both Megan and Kana wish more people were enrolled in the class. "Two students in one class is kind of weird," Kana said. Both she and Megan are sopranos, so in order to harmonize they both have to learn the alto parts as well.
Although there are only two singers, both Megan and Kana have "drastically improved" their skills, said Colin Mann, Director of Choirs. "I am thrilled with both of them. Now, they are able make great sounds independently."
Mann hopes that singing will be a "more consistent culture" here at Williston. "Typically, choir is a year-though program all over the world just because it requires large amount of time to improve," he said.
Mann is striving to spread the music culture in Williston; to that end, he supervises four academic classes: Widdigers, Catarwaulers, Middle School Chorus, and AP Music Theory, as well as "Crazy for You," Williston Wildchords, Williston Fusion, and Teller Chorus.
"I really hope students consistently take my class and improve their skills," Mann added.
Praghya Athavan Raja '22 joined Choir in the second trimester, and told The Willistonian that she had so much fun in the class, and is already planning to take the class next year as a sixth class.
"It is just so fun!" she said.
Sofia Michalski '22 also took the class previously as well and enjoyed it. She wants to join the class next year if her schedule and the class line up. "If I can, then I will," she said.
Despite its small numbers, the two-person choir has some serious bona fides behind it: Kana sang for twelve years at her old school in Tokyo, where she also she took private lessons.
Kana said on arriving as a freshman at Williston, she was nervous her English speaking skills wouldn't be up to par. She said she chose choir because it wouldn't put as much pressure on her to speak perfect English.
In the second trimester, she switched from choir to 3-D Foundations in order to, in a roundabout way, concentrate on her main sport, swimming; 3-D Foundations, unlike Choir, doesn't have a concert component.
In the third trimester, she came back to Choir. She feels comfortable in this class, though she prefers first trimester  more because "harmony sounds more gorgeous with more singers."
Kana told The Willistonian that her current biggest worry is "the upcoming concert" which requires each class to sing three songs in front of the audience. She is stressed out. "There are only two singers, so my mistake cannot be fixed by anyone," she said. "I cannot make any mistakes."
This class is planning to sing "Shallow" by Lady Gaga and Bradley Cooper, from "A Star is Born." Though she's also nervous, Megan is excited, especially to sing the "A Star is Born" standout.