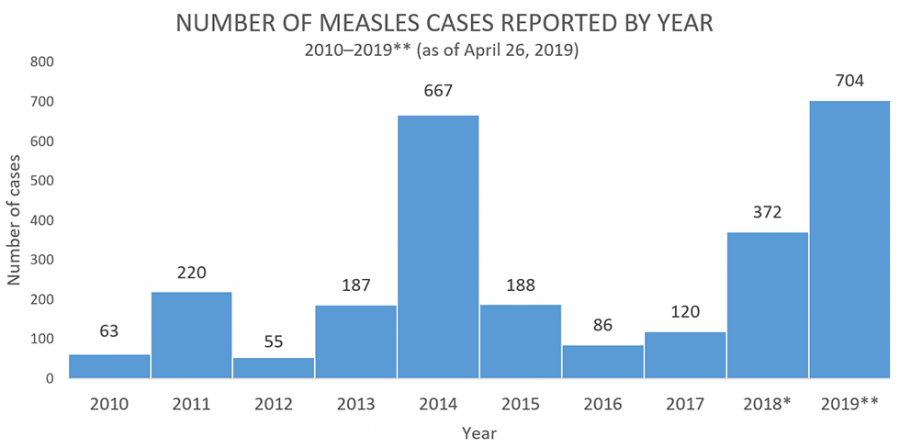 A disease once eliminated — and easily preventable — is back, and spreading throughout the United States.
According to Centers for Disease Control and Prevention, 704 individual cases of measles have been reported since the start of 2019. This is the greatest number of reported cases since 1994; the disease was declared eliminated in 2000.
Measles in an infectious virus that causes fever and a red rash on the skin, according to the Mayo Clinic. It typically occurs in childhood, and can prove fatal for small children. Due to a high vaccination rate, measles hasn't been widespread in the United States for over a decade. The vaccine for measles was created in 1968 by Maurice Hilleman, and is still used today
These outbreaks were linked to travelers from the United States who brought the disease back from countries including Israel, Ukraine, and the Philippines, The Washington Post reported. The majority of people who got measles were unvaccinated; so far, measles has been found in 22 states.
According to the National Center for Biotechnology Information, many parents are not vaccinating their children due to the disputed belief that vaccinations cause autism; signs of the developmental disorder often present themselves in children right around the time they are receiving their first measles vaccination. The claim, since debunked, has its origins in a 1998 study that later was found to be fraudulent.
Trevor Corsello '20 interns as a volunteer at NYU Winthrop Hospital in Long island, and finds it hard to believe that some parents do not vaccinate their children.
"While working at the hospital, I have learned a lot about vaccinations and how important they are, especially for already cured diseases like measles," said Trevor. "Not vaccinating your kids is one of the worst things you can do."
Alex Berg '19 is frightened about the possibility that many kids in the future will not be vaccinated.
"My parents both have a background in healthcare, and have always talked about the importance of being up to date with vaccinations," said Alex. "It's scary to think that a disease already cured inscoming back, just because some parents don't want to vaccinate their kids. It's crazy."
Autumn Roy is the Health Services Clinical Assistant at Williston, and outlined the rules for vaccination on campus.
"To enroll at Williston, we require students to be up to date with the Massachusetts Immunization Requirements. We look for all students to be vaccinated, and highly recommend it," said Ms. Roy. "If it contradicts religious beliefs, students can get a waiver to excuse you from certain vaccinations. We also help students if they come from a country where they do not have access to certain vaccinations."