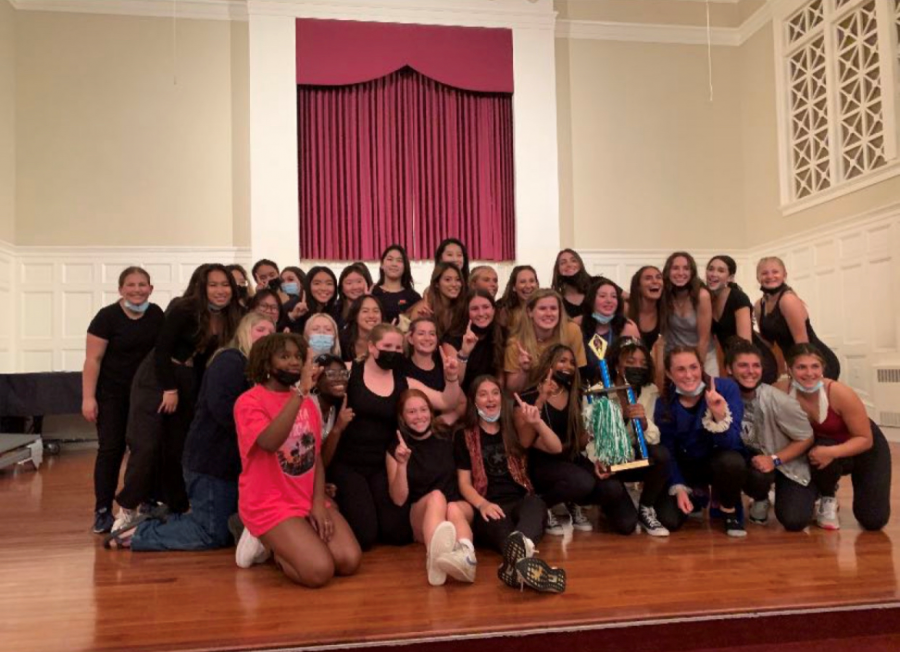 Cheers and screams of students and faculty roared across the chapel on October 9 as students performed, with each team battling each other, in the thrilling and competitive Lip Sync contest, hoping to take home the coveted golden trophy.
The Lip Sync competition was the second part of Willympics. Each team choose a song and choreographed a dance to go along with it. This event has taken place in past years, but was canceled last year due to Covid. Students were thrilled that this fun, musical competition was back on.
Soleil Richardson, a sophomore boarder who lives in Memorial Hall East, was in charge of choreographing her dorm's dance.
"Creating the dance mostly contained of me listening to the song and coming up with choreo in my head when I had the time, whether that be in between classes, lunch, or give minutes before rehearsal," Soleil said. "We basically only had two or three days to learn everything so it was a challenge but I enjoyed it regardless."
Mem East performed to a student-created remix, taking inspiration from "Beauty and the Beast." After their performance, Soleil thought her group "did amazing especially for the amount of time and little space we had, and was genuinely so proud of everyone."
Mem East's performance wowed the entire crowd, prompting a standing ovation at the end of the song. Their performance won them first place, which meant first place overall in Willympics.
Natalie Stott, a senior boarder who is a proctor in Emily McFadon Vincent House, was eager to perform before she took the stage as a lead in her dorm's performance.
"This is definitely one of my favorite events of the year and I was really looking forward to getting to show what we had worked on," Natalie said.
EMV choose to perform a popular song from the movie "Grease" titled "Summer Nights." Natalie played the female lead of the routine, choreographed by Poppy de Luzuriaga and Charlotte Carr.
The original "Summer Nights" from Grease was performed by John Travolta and Olivia Newton John and came out in 1978.
Post-performance, Natalie "felt really energized after and was still really nervous."
"My legs were shaking which I don't really know why because that doesn't always happen … I just felt like it was a great time and I honestly wanted to do it again," Natalie said.
EMV, with assistance from dormparent Erin Davey, started to prepare their dance and song duo a couple nights before the event, practicing before and after study hall. The night before the big day, the girls in the dorm headed to the chapel to practice one last time on the actual stage.
As a performer and a proctor, Natalie was satisfied with her dorm's performance and their second place in the Lip Sync and third place overall.
"I think our dorm did awesome we finished it literally 30 minutes before, so I think it was impressive that we pulled it off and I think it ended up going really well," she said.
Tu Thieu, a junior boarder who is a proctor in Wold House, was also excited and relieved to finally perform.
"We were all very nervous to perform in front of everyone but also had total confidence in our performance," Tu said. "I felt relief after the performance because we've been practicing for so long that finally, we can show off our hard work."
Wold House, with assistance from dorm head Allison Marsland and the other proctors, chose the song "Take on the World" by Sabrina Carpenter and Rowan Blanchard, which was originally the theme song of the Disney Channel show "Girl Meets World."
Tu's favorite part of their performance was "when we turned off all the lights with only flashlights, and the part when we ran into the crowd."
Wold House received third in the lip sync and second in the overall competition.
Zac Landon, a senior day student, joined his day-student team on stage for a last-minute performance.
"I was eating at Veracruzana and got a call that we were about to perform," Zac said. "I ran back with a few of my friends and we just winged it."
The day students performed to "Eenie Meenie" by Justin Bieber and Sean Kingston, which was released in 2010.
Despite their minimal preparation, Zac was pleased with the outcome of eighth place in the lip sync, and fifth place overall in Willympics.
"The day students [put in] a great, solid effort," he said. "I was happy after because I thought we made the most of the opportunity."
Liz Kay, a science teacher and judge of the event, said the Lip Sync exceed her expectations.
"Everyone put a lot of effort into their performances and the energy was awesome from the time I walked in the door until it was over," Kay said.
Her favorite part was getting  "to see everyone in a different environment than in the classroom or on the athletic field." She also enjoyed that the competition "was a chance for the groups to come together and be proud of something to achieve something when they might not hang out as much otherwise."