Health and Wellness Keeps Close Watch on Common Cold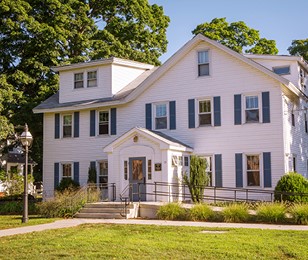 Cases of sickness on campus have kept Health & Wellness busy the past few weeks.
Many of students have been feeling poorly lately, presenting symptoms of a cold: stuffy nose, sore throat, cough, and slight body aches. Since we're still in the middle of the Covid pandemic, the nurses have been treating the students carefully and monitoring their progress closely.
This is the first time in almost two years Williston has experienced cases of a contagion of any kind or severity. Indeed, as the nurses from Health & Wellness asserted, the cold currently going around has hit so hard because "none of us has been exposed to the same colds and viruses that we typically would be every year."
According to Amber Mish, Director of Health and Wellness Services, the best remedies for the cold symptoms are saline nasal spray three-to-four times a day, saltwater gargles three-to-four times a day and cough drops.
Although these remedies may help you feel better, Mish stated that "there is no magic cure for a viral illness such as the common cold. It is a matter of treating the symptoms and allowing the virus to run its course."
Students coming into H&W with Covid-related symptoms have all been tested with either an antigen test, a PCR test, or — in some cases — both.
This is the case of Caleb Boyko, a junior living in John Wright, who experienced symptoms of Covid and was, therefore, immediately quarantined in Conant House, an old dorm which currently does not house students.
Caleb's quarantine was established quickly because of his mom's close contact with a positive case, Caleb's aunt. When Caleb went to H&W his mom's Covid test result wasn't out yet, therefore, even though his antigen test came up negative, school protocol ruled that Caleb must be also tested with a PCR test and, in the meantime, quarantined.
"I was really really tired, my throat really hurt in the mornings and at night time, I had a really stuffy nose and I had a cough which started as dry but then developed, " Caleb said. Caleb's PCR test came back negative.
The junior from Belchertown, Mass., said quarantine impacted his emotional state as well.
"It was boring, I couldn't see anyone, talk to anyone," he said. "It was just really depressing."
Caleb spoke to The Willistonian about difficulties of the quarantine, both academically and socially.
"I wasn't taking any online classes, I felt behind with work," he said. "I wasn't seeing class notes or doing in-class exercises that could have helped me with tests that were later on in the week."
Despite the adversities, Caleb managed to catch up with his classmates through the homework assigned by the teacher.
Quarantine significantly impacted Caleb's athletic performance as well. Caleb recently had surgery on his knee, and he is currently doing rehab to heal from the injury.
"Time is really precious for me to get back playing sports," Caleb claimed. "I missed three days of rehab because I couldn't go see Mr. Garvey."
Leave a Comment