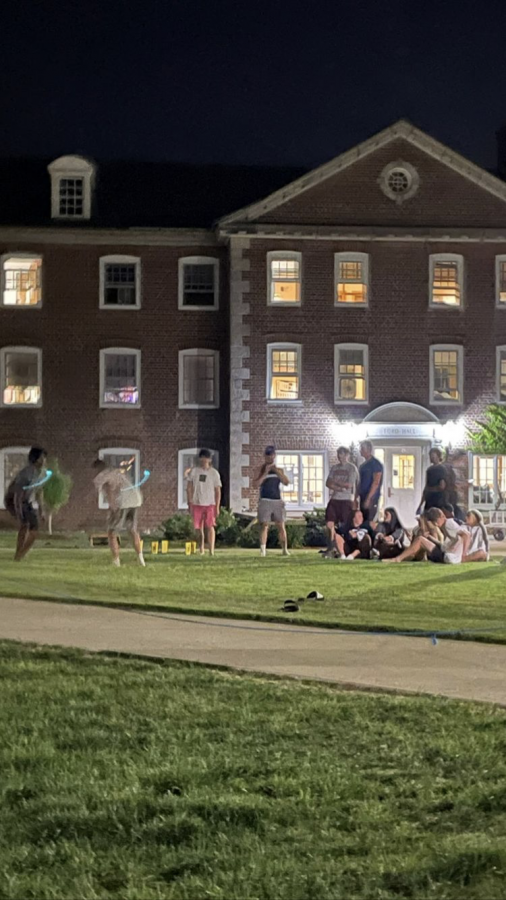 After a long week off, round two of the Ford vs. Mem tournament has finally taken place, and Ford has walked away with another victory.
On Friday October 15, Ford Hall rallied their teams, while across the quad, Mem West was doing the same. At 9:30 p.m. Ford headed over to outside Reed Center to compete in the biggest cornhole tournament of the newly-forged dorm battle.  
"Ford came ready to compete and it showed," said Ford resident Gavin Havens '22. "We were ready for this contest, and I was more than happy to walk away with another win after last week dominating in Spikeball too."
The cornhole tournament was outside without masks, which both sides were thankful for. The dorm parents provided snacks for the boys participating.
Connor Hagness, a senior boarder in Mem, said "Having the Ford versus Mem challenge helps the fact that even though we have school Saturday, everyone can still get out of study hall early and go spend some quality time with the boys."  
Connor continued, saying, "I was a bigger fan of Cornhole because it was easier outsider and more people were involved. Unfortunately Mem West lost again but we aren't going down without a fight." 
The winner of each week's contest receives the inflatable trophy to place wherever they want in the dorm.  
"We made sure we put the trophy right in the window so everyone walking by can see who the champions are after each week" said junior Drew Renzella.  
This is Drew's second year at Williston; he said the proctors of each dorm have been doing an outstanding job with coordinating these events.  
"Ford went into this one knowing we would come out on top, however, Mem West put forth a good battle," Drew said. "I want to thank the proctors for creating this for us to participate in and I look forward to keeping this win streak going"