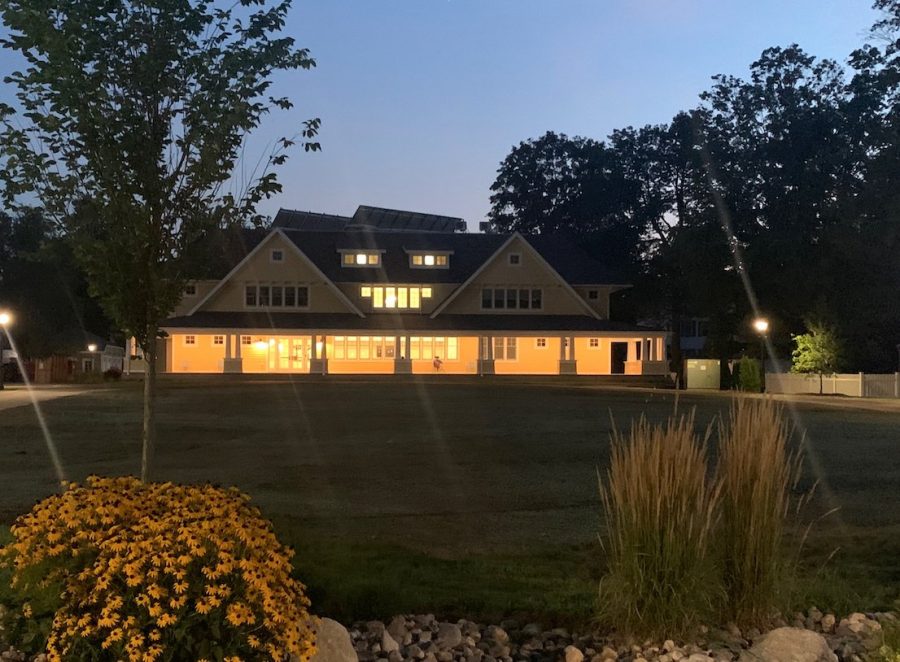 After years of planning and building, Emily McFadon Vincent (EMV) dorm has finally opened its doors.
It was a monumental moment because it's the first dorm named after a female: McFadon Vincent graduated from Williston in 1949, and was, Head of School Bob Hill said, "the bravest explorer" he ever met.
The dorm, which houses 33 girls from the sophomore, junior, and senior classes, is located behind John Wright, completing the residential quad. The construction of the dorm began in September 2019, and finished just days before students moved in on Aug. 14.
The new dorm head is Christa Talbot-Syfu '98, who lives in the dorm along with Erin Davey, Kim Evelti, and Katie Loomis. Alexia Ildefonso, a new history teacher, is also a dorm parent, but lives in JW.
Many of the residents, including Ella Mattocks, a junior from Shutesbury, Mass., couldn't be happier they were assigned to this dorm.
"I think it's amazing the way that we're the first people to ever live in this dorm," she said. "[We have a] great group of girls and it's cool that we're living in the first dorm to be named after a woman."
Her roommate, Meryl Sesselberg, a junior from Maine, agreed with Ella. She added that the dorm has "a great location" located within the residential quad. Not only is it a dorm, but it's also a "family," she said.
Both of them lived in Mem East last year, and they are happy with a change of scenery. Meryl said EMV is "nicer and newer." She enjoys the many perks that come with a new dorm.
"The rooms are twice as large as the ones I had in Mem [East]," Meryl said, "It's almost like living in a hotel with air conditioning."
Ella was already looking forward to the dorm before she arrived. "I was super excited because this is exactly where I wanted to live," she said. "[I have] no complaints."
So far the both of them have been loving it here, especially with the addition of the dorm parents. Meryl said, "We're still getting to know them, but they're very sweet. If you have a problem, they're there to help."
Emma Merrill, a junior from Maine, lived in 194 for the past two years. She said the new dorm is nice, but not too different from what she was used to. However she is grateful to be here. "I think that it's kind of cool to be the first people ever to live in a dorm," she said.
Her roommate, Minami Ogino, a junior from Tokyo, expressed that she feels "lucky" to be here. "The rooms are big and the bathrooms are so clean," she said.
What makes the dorm truly special, Emma said, is the atmosphere.
"Everyone is so friendly," she said. "If you see someone you say 'hi' and it doesn't matter who it is." Minami added that it's great to meet a lot of new students.
Anna Jofre '22, from New York, felt right at home when she arrived. "I really like it," she said. "Everyone has been really welcoming. I feel like I found a family on campus."
Her roommate, Rosie Crooker '22, from New Hampshire, said that everyone is "willing to meet new people. [People] reached out to help us."
Anna stated that the dorm wouldn't be complete without the cohesion of the dorm parents. "I really like them because all of them have their own individual traits," she said. "They work really well together.
Rosie described them as "welcoming, non judgmental, and warm."
In unison, all the girls said that their favorite place in the dorm is the porch. The porch has recently become the hub due to Covid-19 restrictions. People have to stay six feet apart and the porch became the perfect place for that. Many people hang out and eat there during the day.
Talbot-Syfu, Associate Director of Admissions, was excited to become dorm head at EMV. She has previously lived in Ford, and taking on the role of dorm head wasn't much of a challenge for her. She was previously the dorm head of Conant before it was a boys dorm, and is happy to be back working with girls.
She told The Willistonian that she wasn't too worried because of her previous experience and she had the help of Allison Marsland, 194 dorm head, whom Talbot referred to as the "dorm head queen."
EMV now completes the residential quad and "offers another great space for girls to live," said Talbot-Syfu.