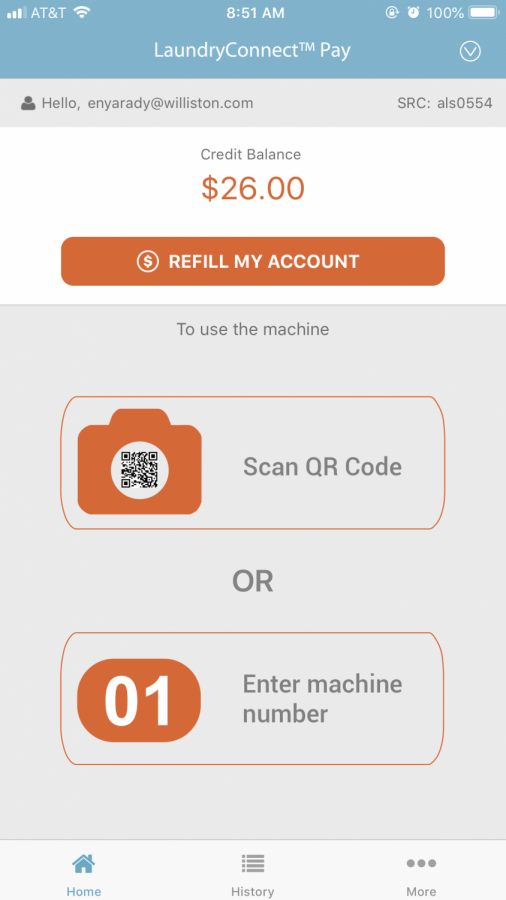 New laundry machines on campus are giving Williston dorms — and students' clothes — a clean new look.
The new improvements make it easy, quick and efficient to get laundry done by one scan of an app downloaded on any mobile device. The app, called "LaundryConnect," links a credit card with an account, and takes under a minute to set up.
Along with the new technology to aid the convenience of the wash and dry process, the school brought in new, and much-needed. The old machines required multiple cycles to completely clean and dry clothing, whereas the new machines only require one. The old machines cost for washer was $1.50 and the dryer was $1.25, but you could add more time if you wanted to pay extra, which was mostly required if you wanted all of your laundry to dry.
The new machines are $2.00 but only require one cycle since they are brand new and work nicely. Most students are booming about this new change.
Bryn Saarela '20, a resident in Memorial West, feels that the new machines are a great addition, for their efficiency and because she doesn't have to dig for change anymore.
"It's great because I don't need to scramble for quarters anymore," she said.
Mrs. Davey, Dorm Head of Memorial West, agrees; she's seen students use the app easily.
"It's a nice change for students not to carry an excessive amount of quarters," she said.
Natalie Stott, a freshman living in 194, agrees, stating,"[The machines] wash my clothes a lot better, [and] I love the new app, it makes it very quick and efficient."
Many students are pleased the school has upgraded its facilities.
"I am glad our school is [modernizing] because the old system was very outdated," Casey Feins, a junior who lives in Memorial Hall said.
Other than a few kinks, like one student who said he didn't receive the promised free wash, the new technology is great.