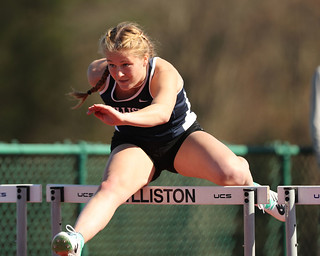 John Risley
Though her senior spring season never took place, Chloe Prouty is still hurdling toward a bright future on the track.
Chloe '20 sadly couldn't finish her last season of track due to Covid-19 cancellations, but she has committed to Springfield College, where she'll compete in hurdles next year.
Chloe made her way to Williston through the feedback she got from her mom and her sister Emma Prouty '18. Emma and their other sister, Sophie '19, ran track in middle school, and the sisters' love for the sport eventually influenced Sophie.
Chloe said she saw "how happy" track made Sophie, and before long, the sibling rivalry that began in middle school was taking place again.
"When we started doing same events like in cross country, the competition started to kick in," Chloe said.  When Chloe decided to do her PG year at Williston, she was ready to compete against her sister once again.
Chloe admits she was worried "because I knew I was running against Sophie, who always won her races from public school,"  Chloe said through FaceTime. Sophie and her older sister Emma both hurdles in public school Their cousin competed in hurdles at Mount Holyoke College.
Martha McCullagh, the Track and Girls Cross Country coach, helped Chloe improve her technique.
"After listening to her everything started to flow," said Chloe.
McCullagh admired Chloe's dedication to the sport and her determination to work hard every day.
"Chloe has demonstrated persistence," she wrote in an email. "I think if other students and athletes want to learn from Chloe they could follow her lead in doing the extras in their work and making relationships."
McCullagh first met Chloe in cross country.
"As a hurdler, she has always been very hard on herself," McCullagh said. "She holds herself to very high standards.  She wants to understand the mechanics of her event and works to master the details."
Chloe is thankful for where hurdles has taken her.
"Obviously hurdles has gotten me to where I am now, which made me get into college, [which] is absolutely insane," Chloe said. "I can't even begin to believe how crazy that is, [from] where I started to now."
Mark Conroy, Director of Athletics, is proud of Chloe's accomplishments.
"It has definitely been awhile since we had a track athlete who specializes in hurdles going to compete in college," Conroy said. "Chloe has been a dedicated member of the Track and Field team for the past few years."
Chloe's personal record in the 300m hurdles is 50.03 seconds and is "pretty sure" her PR in 100m hurdles is 17.3 seconds. She was looking forward to beating 50 seconds in the 300m hurdles this year.
"I am just thankful that I have something is mine, because Sophie has track and distance for her and I wanted to break away from that," Chloe told The Willistonian. "I am glad I settled into hurdles and practiced to where I am now."
While searching for colleges in which she can pursue both hurdles and a good academic rigor, Chloe was in contact with 15 schools. Ultimately, Springfield won out.
"I settled in on Springfield and went on my overnight and absolutely loved it!" Chloe exclaimed. "I had like three hosts, they were all track girls. I went to practice and saw the hurdle workouts; it was a day before the meet. And I talked to some hurdling people and after that I knew that I wanted to go to Springfield. Everything else was out of the question."
Chloe said after she graduates she hopes more athletes at Williston try hurdles.
"You can be a huge contribution because of … how few female hurdlers there are nowadays," Chloe explained. "You can place in almost every event. I would say Mrs. McCullagh is really great at getting people who have absolutely no experience, [to get] them to where they need to be."
Chloe understands the difficulty and the intimidation that comes along with the event.
"It's really intimidating, and I have a heard an absurd amount of people say 'I can't get over that, I am going to fall,'" Chloe responded. "But it's something that you obviously have to work towards."
Chloe recalled the first race she actually won at Williston, and the excitement from "not only knowing that I won but the fact that I was scoring real points for the team, and actually having a major contribution to the team was incredible."