Baseball Hall of Fame Names New Class of Inductees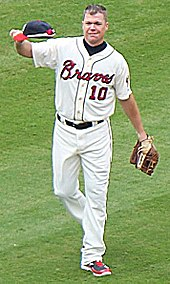 Hang on for a minute...we're trying to find some more stories you might like.
The Baseball Hall of Fame has inducted four new players. However Barry Bonds, Sammy Sosa, and Roger Clemens, all megastars from the steroid era, were left off the docket once again.
The 2018 Baseball Hall of Fame class was announced Wednesday, with Chipper Jones, Jim Thome, Vladimir Guerrero, and Trevor Hoffman taking their places in Cooperstown, New York.
Jim Thome had 612 homeruns and 1699 RBI's. Chipper Jones is joining Babe Ruth, Stan Musial, Lou Gehrig, Mel Ott and Ted Williams as one of only six players in MLB history to record a .300 batting average, a .400 on-base percentage, a .500 slugging percentage, 450 home runs, 1,500 walks, 1,600 RBIs and 1,600 runs, Vlad Guerrero's 2590 hits, 490 homeruns, and .300 batting average, and Trevor Hoffman's 601 saves, 2.87 ERA, and over 1000 innings pitched and many other reasons why these players are being inducted into the Hall.
Alan Trammell and Jack Morris, who were voted in by the Modern Era committee in December, will also be inducted at the 2018 ceremony. Trammel played for the Detroit Tigers as their shortstop from 1977 to 1996. Morris was the Tigers pitcher alongside Trammell
Jones led all players with 97.2 percent of the vote. Guerrero, in his second year of eligibility, received a massive surge in support from 71.7 percent in 2017 to 92.9 percent. Jim Thome and Trevor Hoffman received 89% and 79% of votes. Roger Clemens and Barry Bonds finished 7th and 8th on the ballot.
Will their time ever come?
Will Jordan '18, starting pitcher for the Williston baseball team, commented, "This was a good class of Hall of Famers. They played the game fairly and definitely earned their spot."
Will continued, "Eventually I think Bonds, Clemens, Sosa, and Mire will someday make it into the Hall of Fame, but it shouldn't be this soon, especially when there are players who did not cheat the game in their era and deserve to be recognized."
Bonds played for the San Francisco Giants from 1986 to 2007 starting his career in Pittsburgh for the first six years. Roger Clemens played for the Red Sox, Yankees, Toronto Blue Jays, and Houston Astros from 1984 to 2007, playing for the Boston Red Sox for his first 12 years. Sammy Sosa played for the Chicago Cubs from 1989 to 2007. Mark McGwire retired in 2001 after playing for 15 seasons for the St. Louis Cardinals and Oakland Athletics,
2018 was Barry Bonds' sixth on the Hall of Fame ballot. Bonds never failed a PED [performing enhancement drugs] test during his career, but there are perceptions that he used steroids at some point in his career. However, Bonds' does hold the all-time homerun record of 762.
Bonds, in 2015, told Mlb.com how he felt about getting left off the ballot.
"I love Major League Baseball," he said. "I always have and I loved playing the game, I don't have any doubts that I'll get there in time. I'm bothered about it, but I don't sit here going, 'I'm not going to make it.' I don't see how it stays the way it's going. In my mind, in my head, I'm a lot more positive about it than I am negative. I think eventually they'll do the right thing."
Bonds continued, "I'm happy now. I was happy then, but I was just dumb the way I handled it. If [getting in the Hall] never happens, I know the player I was in the game of baseball. I know in my heart and my soul. I know how hard I played. I know how much I dedicated to myself. I know how much I trained. I know how much I gave to that game. I was very, very good at it. And I will never in my life allow anyone on the planet to take that away from me."
The way the votes have been trending it may not be long until Bonds and Clemens get their seat in Cooperstown. But for now, they will have to watch the induction ceremony just like everyone else, as a spectator.
Red Sox favorites Curt Schilling and Manny Ramirez finished 9th and 13th on the ballot. Schilling ended with 51.2% of votes and Manny with 22% of votes. To be elected into the Hall of Fame a player must end with at least 75% of votes.