A Williston Parent and Restaurant Owner on How the Local Food Scene is Adapting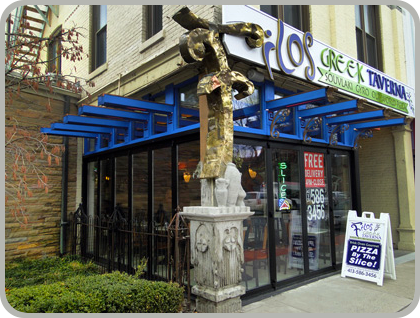 If Uber Eats wasn't already popular, it is absolutely essential now, and it may be one of the main ways to save our favorite local spots.
On March 23, 2020, Governor Charlie Baker of Massachusetts ordered all non-essential businesses to close and asked all restaurants to only offer take-out and delivery.
Uncertain when they'll be able to reopen, many restaurants now offer delivery or pickup. However, while we are still able to enjoy many of our favorite restaurants from the comfort and safety of our own homes, the reality is that many restaurants are being forced to cut staff or close all together.
In a March 20 article in the New York Times, Kim Severson and David Yaffe-Bellany said, "Restaurant analysts and operators have been quoting an estimate that 75 percent of the independent restaurants that have been closed to protect Americans from the coronavirus won't make it."
Even with delivery and pick up options, many smaller restaurants cannot afford to hire delivery drivers or risk the possibility of a staff member becoming ill.
It is these smaller restaurants and businesses, such as Small Oven, Kisara, and Daily Operation, that truly give communities a unique and vibrant culinary scene. It would be a devastating loss if these restaurants were unable to return to normalcy with the rest of the community.
Konstantine Sierros, a Williston parent and owner of five local pizza restaurants, is happy to be able to serve his community during this difficult time, but has also had to face challenges.
"Owning and operating a restaurant in these most peculiar times is stressful yet fulfilling. But I found that if I focused my attention on a few key things: keeping my staff simultaneously safe and employed while providing the food I knew would be much needed to my community, I could continue to keep my doors open during the crisis," he wrote in an email to The Willistonian.
Sierros has made sure to implement myriad different safety procedures to ensure all his employees and customers remain safe, including the wearing of facemasks and single-use plastic gloves when preparing food.
Sierros is the owner of Paisano's Pizza Restaurant and Pub, Filo's Greek Taverna, Florence Pizza and Family Restaurant, A1 Pizza of Florence, and A1 Hilltown Pizza. Even though Sierro's is operating multiple restaurants throughout Western Mass., he finds that all his staff members become family.
"It is interesting to note that most of my employees in all five restaurants have been with us for at least ten years, and for some as long as nearly 20," Sierros remarked. "[The staff] are truly viewed as members of our family. And as family, you will do everything you can to keep them safe, healthy, and help them in their ability to pay their bills and keep a roof over their heads."
Although Sierros has been able to remain 90% employed during the pandemic, many local restaurants have not been so lucky.
In the March 20th New York Times article, Severson and Yaffe-Bellany noted the story of JoAnn Clevenger, the owner of a small, traditional Creole restaurant in New Orleans, Louisiana.
"It didn't take long for [Clevenger] to realize that a takeout operation wouldn't keep the business alive, and the odds that she will reopen anytime soon are against her. On Thursday, Ms. Clevenger wrote out the last paychecks to her 24 employees, some of whom had been with her for more than 25 years."
While the greater community will be impacted by the loss of local spots, the sad reality is that the communities within these restaurants is also being broken by the pandemic.
Sierros believes the restaurant industry will continue to be affected by Covid-19, at least until an effective vaccine is produced.
"Moving forward I see a world where face masks, disposable gloves, and social distancing will be viewed as a natural phenomenon when entering any eatery in the near future, for customers and staff alike," he said. "The memory of what we had to endure to keep ourselves safe will inevitably stay with us until a vaccine is formulated and the fear of getting or spreading Covid-19 subsides. Until that day, I as the owner, have the ethical responsibility, if not for my own peaceful conscience, to protect those employed by me both in-house and on deliveries."
View Comments (1)